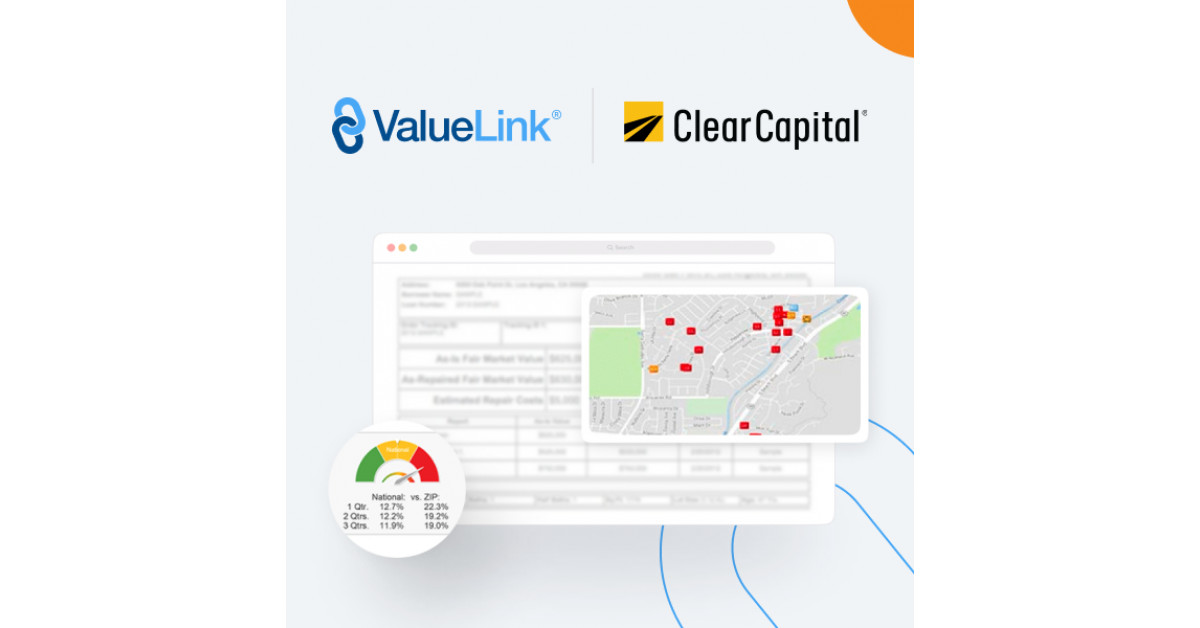 ValueLink Offers Automated Ordering of Clear Capital's Collateral Desk Analysis in its Valuation Management Platform
Collateral Desktop Analysis provides transparency and efficiency for ValueLink customers conducting valuation reviews
Press release
–


updated: Jun 14, 2022 10:38 CDT

HOUSTON, June 14, 2022 (Newswire.com) –
ValueLink Software, the leading provider of appraisal management technology, today announced that it is offering mortgage lenders automated ordering of Clear Capital's Collateral Desktop Analysis (CDA®) through their appraisal management platform. ValueLink customers can easily set up automated order rules, which allow lenders to manage the geographic regions and volume of their CDA orders.
Designed to remove uncertainty before funding or to support post-funding due diligence, CDA is an efficient and cost-effective method of determining whether an appraisal under review is properly substantiated. CDA reassesses the initial appraisal so lenders can quickly provide a complete loan package.
ValueLink's order management solutions provide lenders and Appraisal Management Companies (AMCs) with best-in-class technology and the broadest range of appraisal products. Full automation, from ordering to report delivery, enables huge efficiency gains while ensuring quality and compliance.
By leveraging CDA, ValueLink customers unlock more utility in their work, including:
Save time in valuation review by identifying red flags or actionable deviations from the initial valuation value
Quick turnaround of clear and thorough appraisal review, resulting in increased loan closing rate
Efficient identification of good reports to investigate further and escalate
Detailed valuation analysis helps create a clear, data-rich report summary to support smarter investment decision-making
"Our partnership with Clear Capital allows lenders to access innovative, industry-leading solutions in the most seamless manner," said Aqil Ahmed, SVP – Operations at ValueLink. "The automated CDA ordering process goes one step further by bringing unprecedented efficiencies to the risk review process."
In addition to CDA, ValueLink offers several Clear Capital products through its Appraisal Management Platform, including Traditional Appraisals, Desktop Appraisals, Broker Price Opinions (BPOs), Home Inspections, Property Inspections in Case of disaster and commercial assessments.
"We are excited to offer ValueLink customers automated ordering of our Collateral Desktop Analysis offering and help other mortgage lenders meet quality assurance requirements and reduce risk," said Kenon Chen, Vice Executive Chairman of Corporate Strategy at Clear Capital. "Ensuring quality, transparency and efficiency throughout the valuation process are key factors in moving the industry forward, modernizing processes and setting national standards. Clear Capital is proud to be at the forefront -guard of this movement."
About ValueLink Software
Founded in 2009 and headquartered in Houston, TX, ValueLink Software provides industry-leading appraisal management technology for lenders, appraisal management companies and appraisers to easily manage and track orders in real time while ensuring regulatory compliance. For more information, visit valuelinksoftware.com.
About Clear Capital
Clear Capital is a national real estate appraisal technology company with a simple goal: to build trust in real estate decisions to strengthen communities and improve lives. Our goal is to provide clients with a complete understanding of every U.S. property through our field valuation services and analytical tools and to improve their workflows with our platform technologies. For more information, visit ClearCapital.com.
Source: ValueLink Software