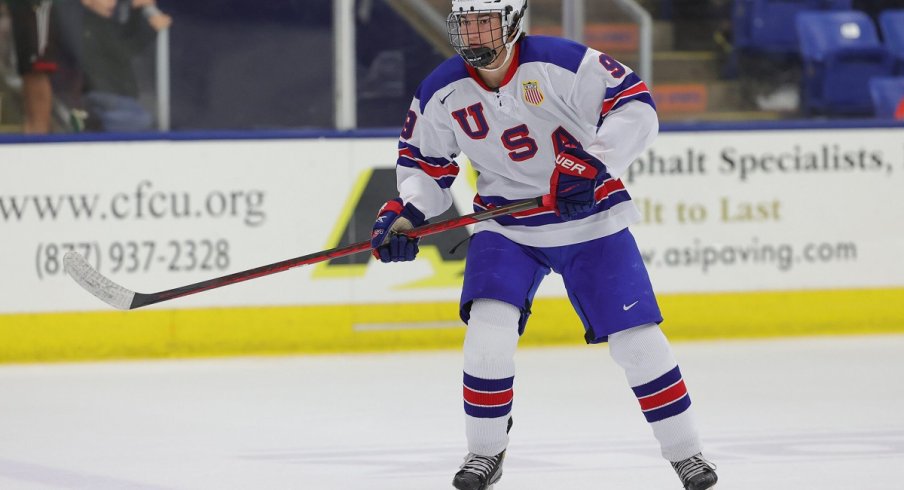 Names to know: Jimmy Snuggerud's shot is an impressive asset, but is it enough to tempt the Blue Jackets?
Welcome to the 20th episode of "Names to Know," a look at prospects the Columbus Blue Jackets could select in the upcoming NHL Draft.
The Blue Jackets have two first-round draft picks—No. 6 and No. 12 – offering general manager Jarmo Kekalainen the opportunity to shape his team for the future as they look to move closer to contender status and be a formidable threat for the playoffs.
Given the Blue Jackets have two first-round picks and plenty of ways to go in an open draft, we've covered quite a few names so far, with each player providing an interesting case to select them.
---
Jimmy Snuggerud hails from Minnesota hockey royalty.
According to Elite Prospects, his grandfather, James Westby, played for the University of Minnesota before representing the United States at the 1964 Winter Olympics. Jimmy's father, Dave, was also a member of the Golden Gophers before to play 265 regular season games in the NHL. So it's no surprise that Jimmy is also committed to the University of Minnesota this coming season.
The right winger's calling card is his shooting, which he can use to beat goalkeepers cleanly. And at 6'1″, 185 pounds, he has a prototypical NHL height. The combination of the two makes him an almost infallible first-round pick, even if the skating leaves something to be desired.
Athleticism Corey Pronman ranked Snuggerud 27th overall in his most recent big chart, comparing him to Tanner Pearson and projecting him as a mid-range player. Here is his analysis on the winger:
Analysis: Snuggerud is a talented winger who can be dangerous with the puck on his stick. He has one-on-one skills, good vision and his best asset is his shooting. He's a long-range shooter threat with a one-timer around which you can build a power play unit. Snuggerud has a good size, is well competitive and responsible defensively. The only problem is that he has heavy feet which might get in the way as he progresses. The rest of his game is strong enough though that I think he could be a top nine forward.
Pronman, who drafted Snuggerud with the 23rd overall pick in his May mock draft, said his "draft location has been hard to pin down because I've heard some sources say he may well go up as a teenager, but others see it more as a 20s type of pick."
Snuggerud finished sixth on the U18 USA NTDP team in scoring, going 24-39-63 in 59 top-six games.
Snuggerud has some interesting assets, but I wonder if his position (winger) works against him. While teams are certainly in the market for his type of play, with powerful shooting, solid two-way play and good size, wingers are easier to find in free agency/via trade than premium centers and defenders. But maybe if the Blue Jackets get "their guy" at No. 6, an argument could be made that Snuggerud is a good candidate for No. 12.