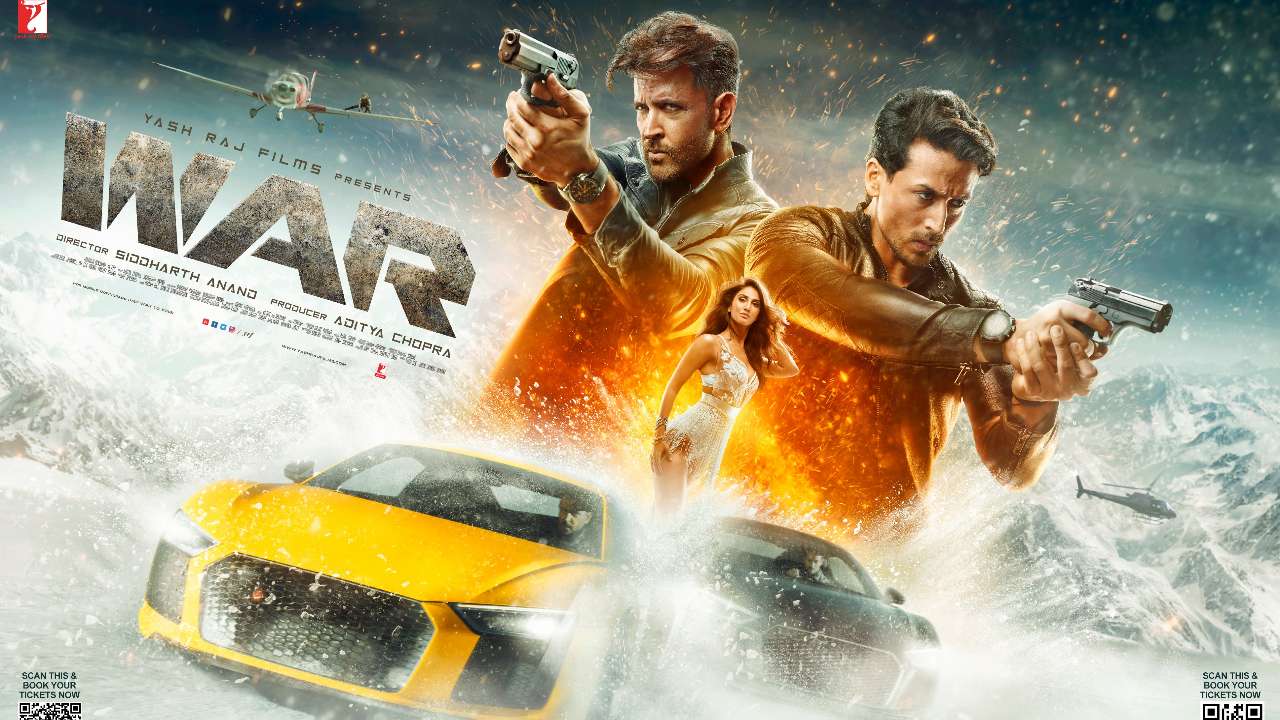 Hrithik Roshan treats Tiger Shroff as collateral damage
Movie: WAR Critic rating: 3/5
Actors: Hrithik Roshan; Tiger Shroff; Vaani Kapoor
Director: Siddharth Anand Written by: Abbas Tyrewala Music: Sanchit Balhara; Ankit Balhara; Vishal-Shekhar
Length :: 2 hours 32 minutes
Story:
Khalid played by Tiger Shroff is tasked with finding and eliminating his mentor and main agent Kabir played by Hrithik Roshan, now turned a thug. The will brings them together in death-defying situations until one must overcome the other.
Review:
Directed by Siddharth Anand, WAR At first glance (trailer) seemed like a new take on Bang Bang but unlike the 2014 remake, this one actually has something more to offer. About to become a misfortune following, WAR at the premise of a Red agent to save the country.
WAR begins with a Kabir aka Hrithik Roshan aiming at his target while his senior officer sits in his home office and watches Kabir flow. However, in less than five minutes, the story takes a turn when Kabir, who is believed to be miles away, shoots his elder across the street. Kabir's team declared red has been set up to hunt and kill him while his most loyal student, Khalid, played by Tiger Shroff, wants to understand the reason for Kabir's attacks. The story then follows the two as they play a cat and mouse hunt across the world.
What Hrithik Roshan and Tiger Shroff have to offer is themselves and the technological marvel of new-age cinema. The cinematography when one of the protagonists is on screen makes it seem like you can see every inch of their muscle moving, but that kind of clarity improves flaws as well. The budget for the lead roles and the rest of the cast seemed to make a major difference. Some indoor and outdoor scenes were shot on sets and using a green screen which is quite visible, especially when the on-location scenes stand out so well. They either feel too isolated or out of place.
The great action scenes, on the other hand, are left out some of which can be seen in the trailer. Throughout the film, we have travel locations for Tiger and Hrithik, with several flashbacks also used to justify their actions. As an audience, we are presented with very little information in terms of timelines and locations. With Kabir killing Khalid's father around 20 years ago, it still seems like they have a 20-year age difference, which is highly impossible given the flashbacks and their military stature.
Hrithik has been seen playing such macho roles before, while his acting never falters, the slow, uneven script brings him down. Tiger Shroff shows improvement as an actor, especially in the film's final five minutes he's sometimes treated as a civilian asset instead of the lead role, but he maintains Hrithik's presence. Vaani Kapoor essentially doesn't have a lot of screen time and is easily overlooked after the first half of the film. The storyline that's supposed to have these big twists and turns and reveal moments becomes repetitive. The final yet surprising twist undoes everything that has happened since the beginning of the film. Dialogs like "Target acquired" when the target was only spotted in the final cut.
The saving grace of this film is in the action sequences, some of which seem unreasonable but are widely accepted in commercial cinema, and hell if the world can do it, so can we. We have people who fly planes, drive cars on ships, and fight like a superman. The background music is what drives the film and gives it the much-needed jerk it needs.
Overall we have a hollow storyline with few emotions, a big budget, and a team that has something to prove. WAR looks more like a return of Hrithik Roshan and YRF than anything else.
Verdict: WAR seems to have started, here is to hope for a better future without continuation.