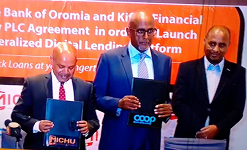 Ethiopia introduces collateral-free digital loan – New Business Ethiopia
The Cooperative Bank of Oromia (CBO) and Kifiya Financial Technologies today launched Michu, its first collateral-free digital lending platform in Ethiopia that offers collateral-free loans.

Michu's AI-powered platform will enable small and small Ethiopian businesses to digitally access collateral-free loans from CBO. At the launch event in Addis Ababa today, it is said that small and medium enterprises can get up to 150,000 Birr with a repayment period of up to one year.
While micro-enterprises can get a loan of up to Birr 30,000 without collateral to be repaid within a month. Michu is expected to increase CBO's loan portfolio by 30%, thereby increasing the number of customers who take loans from the bank.
With over a decade of experience in the market, Kifiya Financial Services is one of the pioneering private technology companies in Ethiopia specializing in fintech.
The CBO, owned mostly by smallholder farmers, has primarily served farmers' cooperatives as the only specialized cooperative bank in Ethiopia mainly targeting the rural community and committed agribusiness and trading enterprises, among others.
The partnership is officially launched by the leaders of the two companies, Deribe Asfaw, CEO of CBO, and Munir Duri, CEO of Kifiya.